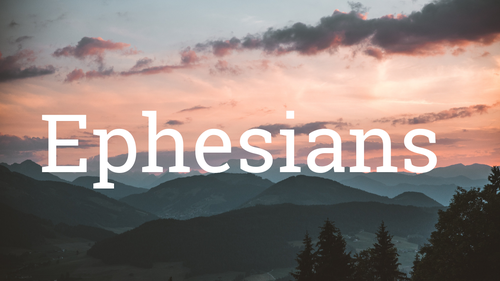 Thank you for joining us in listening to Ephesians 1! If you haven't listened to it yet, you can do so
here
. Access a written copy of Ephesians 1 in the NLT
here
.
We would love to hear your thoughts on this passage of scripture. Below are some questions that made us think. Feel free to answer one or all of them! You can also comment with any other questions or thoughts about the chapter.
1. In Ephesians 1:1-3, Paul refers to where the people he writes to are both physically and spiritually— they are physically near Ephesus and they are spiritually IN Christ Jesus.

-Where are you physically?

-Where are you spiritually?

-What do you think it means to be "in Christ Jesus"?

2. We read in the book of Acts that Paul said to the people in Athens: "From one man [God] made all the nations, that they should inhabit the whole earth; and he marked out their appointed times in history and the boundaries of their lands. God did this so they would seek him and perhaps reach out for him and find him, though he is not far from any one of us. 'For in him we live and move and have our being'" (Acts 17: 26-28a, NIV).

-What spiritual reasons could there be for your physical location?

-How is God is active in this world and in your life?
3 Comments
Patty
- July 18th, 2019 at 11:14am
When I reflect on the spiritual reasons for being where I am physically at work, I see God's hand moving people together in ebbs and flows, learning from one another and then being sent back out into their own spheres of influence to apply new knowledge. I thank God for the way he teaches us and knits us together in community. We really do need each other!
Doni
- September 5th, 2019 at 5:24pm
Doni
- September 5th, 2019 at 5:31pm
I've noticed that I often don't see the spiritual reasons for my physical location until I am actually there. Sometimes I can guess, but God seems to always have more at work than I could have imagined or made happen on my own!