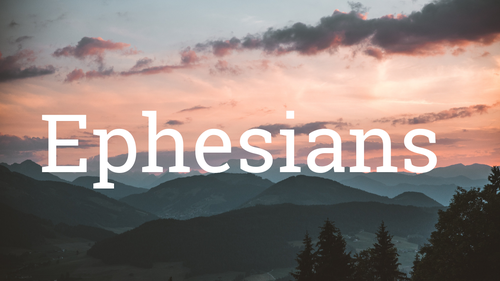 Thank you for joining us in listening to Ephesians 4! If you haven't listened to it yet, you can do so
here
. Access a written copy of Ephesians 4 in the NLT
here
.
We would love to hear your thoughts on this passage of scripture. Below are some questions that made us think. Feel free to answer one or all of them! You can also comment with any other questions or thoughts about the chapter.
1. In Ephesians 4 we see Paul shift from writing about who we are to how we are to live. He doesn't start with a list of rules.

Instead he says, "Always be humble and gentle. Be patient with each other, making allowance for each other's faults because of your love" (Ephesians 4:2).

Humble, gentle, patient, willing to put up with others— this is where Paul starts.

-Why are humility, gentleness, and patience so important when you're working with other people?

2. In Ephesians 4:20-22, Paul says that believers have an "old nature" and a "new nature." Our old nature is still drawn to sin and darkness. Our new nature is created to be like God! Because we are filled with the power of the Holy Spirit, we are able to "put on" our new nature, even though we are still tempted by sin.

-How has God helped you put on your new nature (or new self) and throw off your old nature (or old self)? In other words, how has God helped you resist sin and live the way he desires you to live?

3. In verse 29, Paul writes about the way we speak. He says, "Don't use foul or abusive language. Let everything you say be good and helpful, so that your words will be an encouragement to those who hear them." This is a high standard!

Everyone struggles to have completely pure speech. James wrote, " People can tame all kinds of animals, birds, reptiles, and fish, but no one can tame the tongue. It is restless and evil, full of deadly poison" (James 3:8, NLT). Praise God that He has filled us with His Holy Spirit. Only God can tame our tongues.

-What destructive ways of speaking are hardest to stop?

-How can you help and encourage someone with your words today?

1 Comment
Doni
- September 6th, 2019 at 5:10pm
One of the reasons why it's important for me to remember to remain humble when I interact with other people is because "I don't know what I don't know" and I'm still in my own fight against the sin in my life. Only God is perfect, all-knowing, and all-good and I only have a correct understanding of who I am in light of who He is.Pride seeks self-exultation and humility seeks God-exultation...and is supremely satisfied in glorifying Him!

Philippians 2:3 says, "In humility value others above yourself." When I consider others above myself, I'm ready to learn and see things from their point of view. If I disagree, I'm more likely to communicate with gentleness and patience rather than frustration or even anger. I find this is especially important in my relationships with those closest to me!